Generator Installation, Maintenance and Repair
What type of backup generator do I need for my business or home?
Do I require a whole-house generator?
Do I need load management?
When the power goes out, what type of backup generator is best for you?
Our goal is to help answer all your questions, examine your specific backup needs, and provide an economical and safe standby generator recommendation. Installing a generator has many benefits including prevention of loss of refrigerated items and an increase in the value of your home or business. Most importantly, it can provide peace-of-mind, and comfort during weather changes.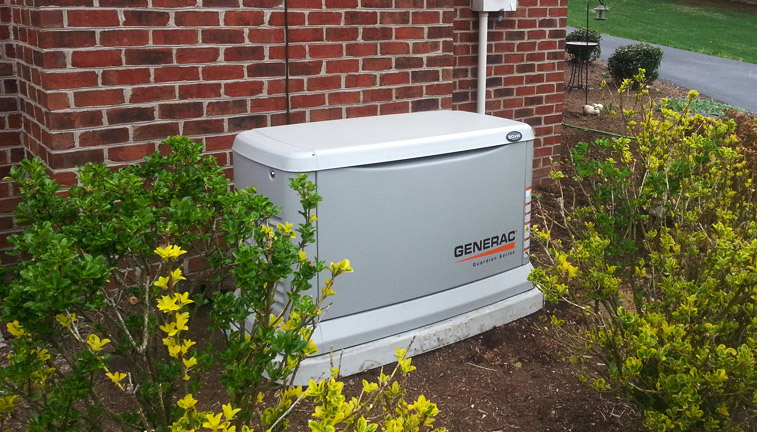 Free Backup Generator Estimate
Our technicians meet with you one-on-one to examine your specific generator needs. During our initial discussion we determine:
• Which household or commercial services are a must: heat, air conditioning, stove, freezers, water, refrigerators for medicines, IT equipment, etc.
• The best fuel source: Diesel, natural gas or liquid propane.
• The best location to install the generator for proper exhausting.
• If the location requires a concrete pad, privacy fencing, landscape removal, or mulching
Standby Generator Brands & Warranties
We help select a standby generator that is best for your needs, including: Generac – Kohler – Caterpillar – Cummins. We can assist with parts, warranties, maintenance, and sales. Each of the products we recommend comes with a manufacturer-established warranty. Our materials and labor are guaranteed for a minimum of one year.
What is load management? Do you need it?
Load shed technology allows the generator to power electrical items in a particular order. The system will automatically "shed" electrical items that are less important, then put them back online when more power is available. This technology allows us to backup larger services with smaller generators which helps reduce the cost to you. It also ensures that the generator will not be overloaded in an emergency. We'll help you determine if this is necessary for your needs.
Backup Generator Maintenance
Our generators perform a self-diagnostic test on a weekly basis at a time determined by the customer. Yearly generator maintenance schedules are preventative. They allow us to review the system, check the oil, spark plugs, change filters, make valve adjustments and more. Review of your system using our generator maintenance checklist helps ensure your generator will be in fine working order when you need it.
For commercial installs, we can set the generators to send diagnostic information to the IT department or another internal department via email or text. It will also alert you to the status of the generator or any alarms.